We offer best prices for our customer
A selection of our most frequent questions
What can I do to keep my shoes in good condition?

Shoe care is one of the most common questions a cobbler gets asked. There are many ways to keep your shoes looking fresh, clean, and resilient. Firstly, shoe trees are a fantastic way to keep shoes from cracking, sagging, wrinkling, and unevenly discoloring. Wearing your shoes all day makes them expand because they get moist with sweat and salt, then when you take them off at night they are softer and tend to sag. Then they dry back out and cause cracks, wrinkles and discolorations. Another couple things that are great for leather shoes and boots is saddle soap and leather conditioner. Saddle soap is a fantastic shampoo for cleaning leather, and leather conditioner is like lotion that keeps the leather nice and soft. Thirdly, a weather sealant can make a world of difference. Silicone spray sealants can reduce the risk of causing permanent damage to the material your shoes are made of. Sealants are especially good for suede, leather, canvas, and nubuck.

Can the calves of my boots be taken in/out?

Yes, not all, but many boots can be altered to fit your calves if the boots are currently too large or small. These alterations must be measured in-store and usually take at least a couple weeks to complete.

My dog chewed my shoes, can they be fixed?

We have saved many shoes from the treacherous jaws of puppies. With a little creativity anything is possible. Some shoes may need new straps, or even a whole new section that has been chewed out. So don't throw your favorite shoes away along with your new puppy. Let us take a look at them first. And though we can't repair them, your puppies and dog are also welcome to come in.

Can my leather shoes be dyed?

Yes. In fact, leather dyeing can make an old pair of shoes looks almost brand new again. Unfortunately it is very hard, and usually impossible, to dye a shoe to a lighter color. In fact, colors in general are quite hard to achieve. Unless your shoes are white, your best bet for dyeing would be brown or black.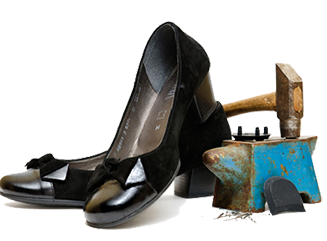 EXPRESS SHOE & LEATHER REPAIR
If you have an emergency repair need, simply call our 24 hour emergency hotline
410-284-2458 OR Contact us